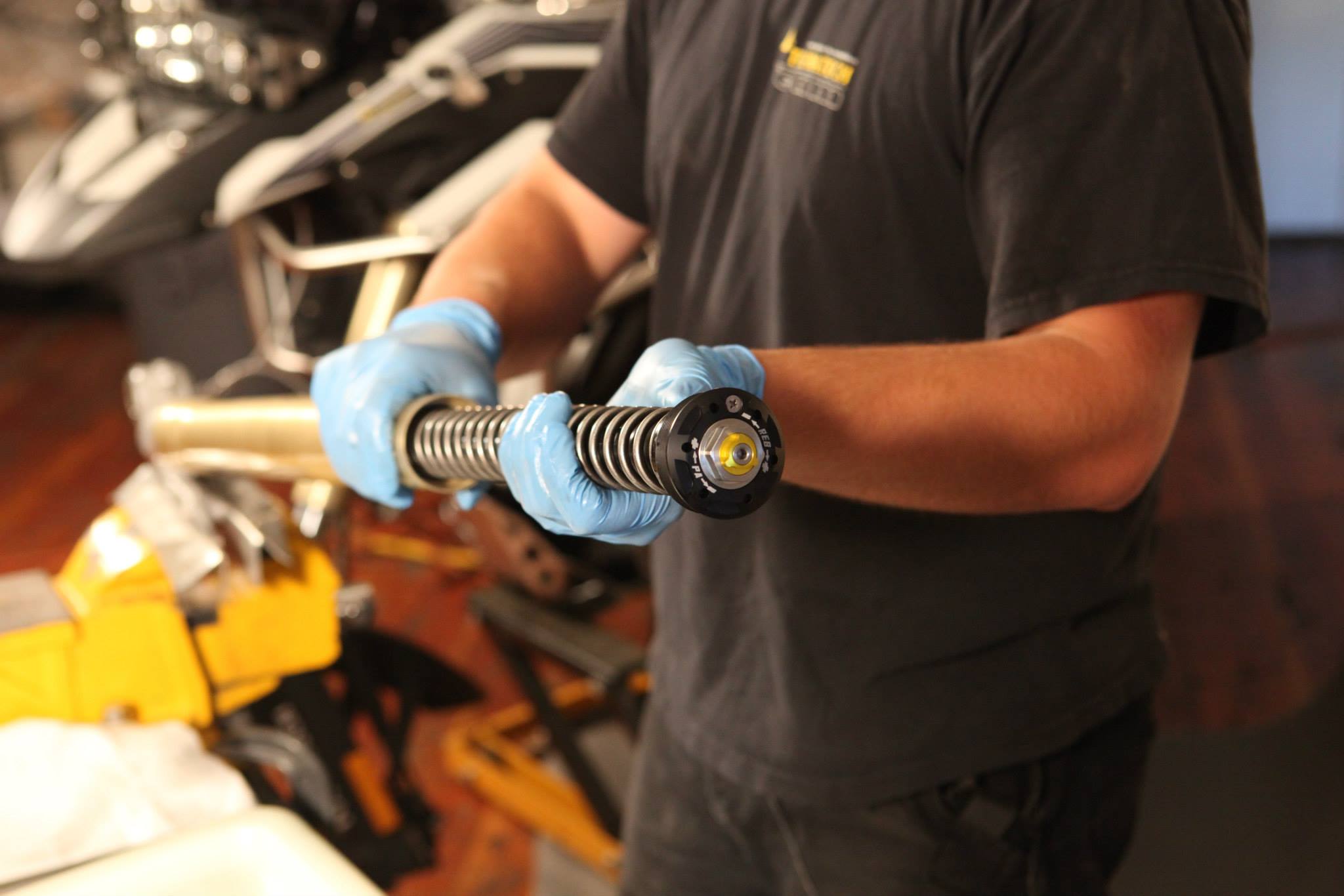 เพียงแค่เปลี่ยน ก็พลิกโฉมการขับขี่ไปอย่างสิ้นเชิง
ชุดสปริงพร้อมแกนกระบอกโช็คอัพหน้า (Suspension Cartridge) ของ Touratech รุ่น Extreme
ถือเป็นนวัตกรรม​​ และเทคโนโลยีใหม่ล่าสุด ทั้งยังพลิกโฉมให้กับ สุดยอดระบบกันสะเทือนหน้า อย่างสมบูรณ์แบบ
เพียงติดตั้งชุดสปริง พร้อมแกนกระบอกโช็คอัพหน้าของ Touratech นี้ ใส่เข้าไปแทนที่ในแกนกระบอกเดิม เพียงเท่านี้ ก็เป็นอันเสร็จสมบูรณ์

อย่างสมบูรณ์เพื่อรองรับการใช้งานแบบสุดขีด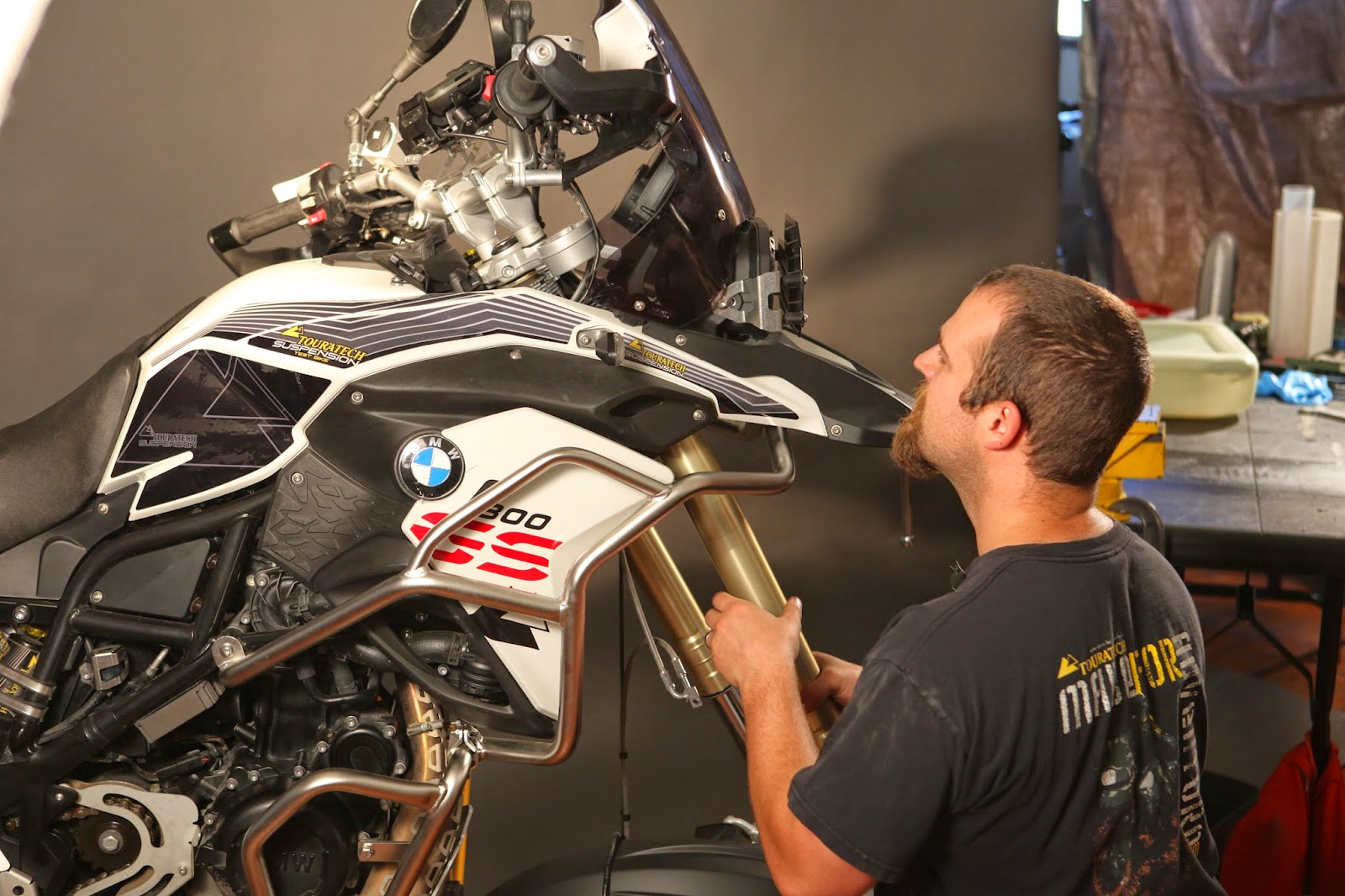 ซึ่งจะไม่ส่งผลกระทบต่อการดัดแปลง หรือการปรับแต่งใดๆกับแผงคอหน้า ขาจับแฮนด์ สายเบรค ระบบควบคุมล้อหน้า หรือแม้แต่มุมองศาของแฮนด์ ซึ่งทั้งหมดนี้ ก็ยังคงใช้งานเหมือนเดิมทุกประการ
ชุดสปริงพร้อมแกนกระบอกโช็คอัพหน้าของ Touratech นี้ ได้ถูกออกแบบ พัฒนาอย่างสมบูรณ์เพื่อรองรับการใช้งานแบบสุดขีด

ทั้งการเดินทางท่องเที่ยวผจญภัย หรือแม้แต่การขับขี่พร้อมสัมภาระ บนเส้นทางสุดหฤโหด ทุกรูปแบบ ทุกเงื่อนไข ทุกสถานการณ์




สิ่งที่คุณ จะได้รับ…
ระบบจะทำการปรับสมดุลย์ กับปริมาณน้ำหนักทุกรูปแบบ ตั้งแต่กระเป๋าสัมภาระใบโตด้านหลัง จนไปถึงน้ำหนักสิ่งของ ที่ใส่ในปี๊ปทั้งสองข้าง รวมถึงน้ำหนัก และ สัมภาระของคนซ้อนท้าย อีกด้วย

การปรับแต่งระบบต่างๆ จะสามารถทำได้ง่ายดาย ด้วยตัวปรับจะอยู่ด้านบนหัวโช๊ค ทั้งระบบการปรับการรองรับน้ำหนักบรรทุก (preload) ระบบการปรับการยืดตัว (rebound) และ การหดตัวของโช๊คอัพ (compression)
ปริมาณน้ำมันในกระบอกโช็คระบบ Closed Cartridge ได้รับการคำนวนมาอย่างแม่นยำ เพื่อรองรับแรงกระแทกได้อย่างดีเยี่ยมทุกสภานการณ์
ซึ่งมีผลอย่างยิ่งต่อการตอบสนองของระบบกันสะเทือน เนื่องจากการปรับแต่งจะตอบสนองต่อความต้องการโดยละเอียด

การตอบสนองต่อการดูดซับแรงกระแทก และการการปรับแต่งได้อย่างละเอียดนี้ จะทำให้คุณรู้สึกสนุก และสร้างความประทับใจตลอดการเดินทาง

โดยไม่คำนึงว่าเส้นทาง หรือสภาพถนน จะเป็นเช่นใด หรือไม่ว่าจะเป็นทางด่วน มอเตอร์เวย์ ทางชนบท ทางวิบาก ออฟโรด หรือ แม้แต่การเดินทางไกลพร้อมสัมภาระ การขับขี่แบบฉวัดเฉวียน หรือรูปแบบการขับขี่ แบบใดก็ตาม

และด้วยระบบ "Hydraulic Endstop" ที่อยู่ด้านในระบบ จึงมั่นใจได้ว่าโช็คอัพหน้าจะไม่ยุบจนสุดตัวอย่างแน่นอน แม้จะเดินทางผ่านเส้นทางแบบใดก็ตาม



คุณลักษณะเด่น ของระบบ Touratech Suspension Closed Cartridges :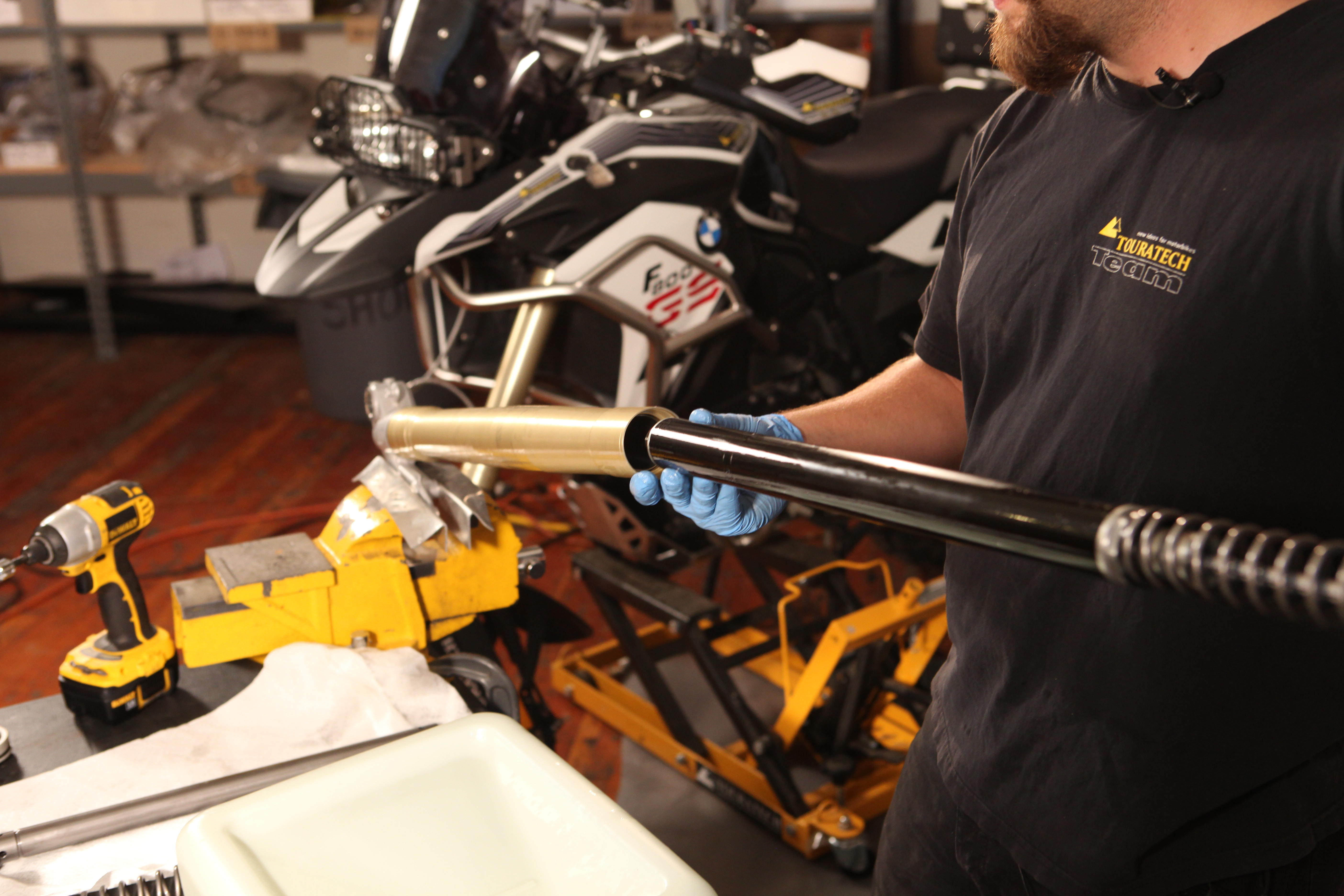 • ติดตั้งแทนที่แกนกระบอกโช๊คอัพหน้าเดิมได้ทันที ไม่มีผลกระทบต่อแผงคอหน้า แฮนด์ ระบบเบรค ล้อ หรือ มุมองศาการควบคุมใดๆ

• ไม่ต้องปร้บแต่ง หรือ แก้ไข ปลอกโช็คเดิม แต่อย่างใด

• ระบบ Closed Cartridge นั้น จะเป็นสุดยอดระบบกันสะเทือน ซึ่งเป็นแกนอยู่ภายในปลอกโช็คเดิม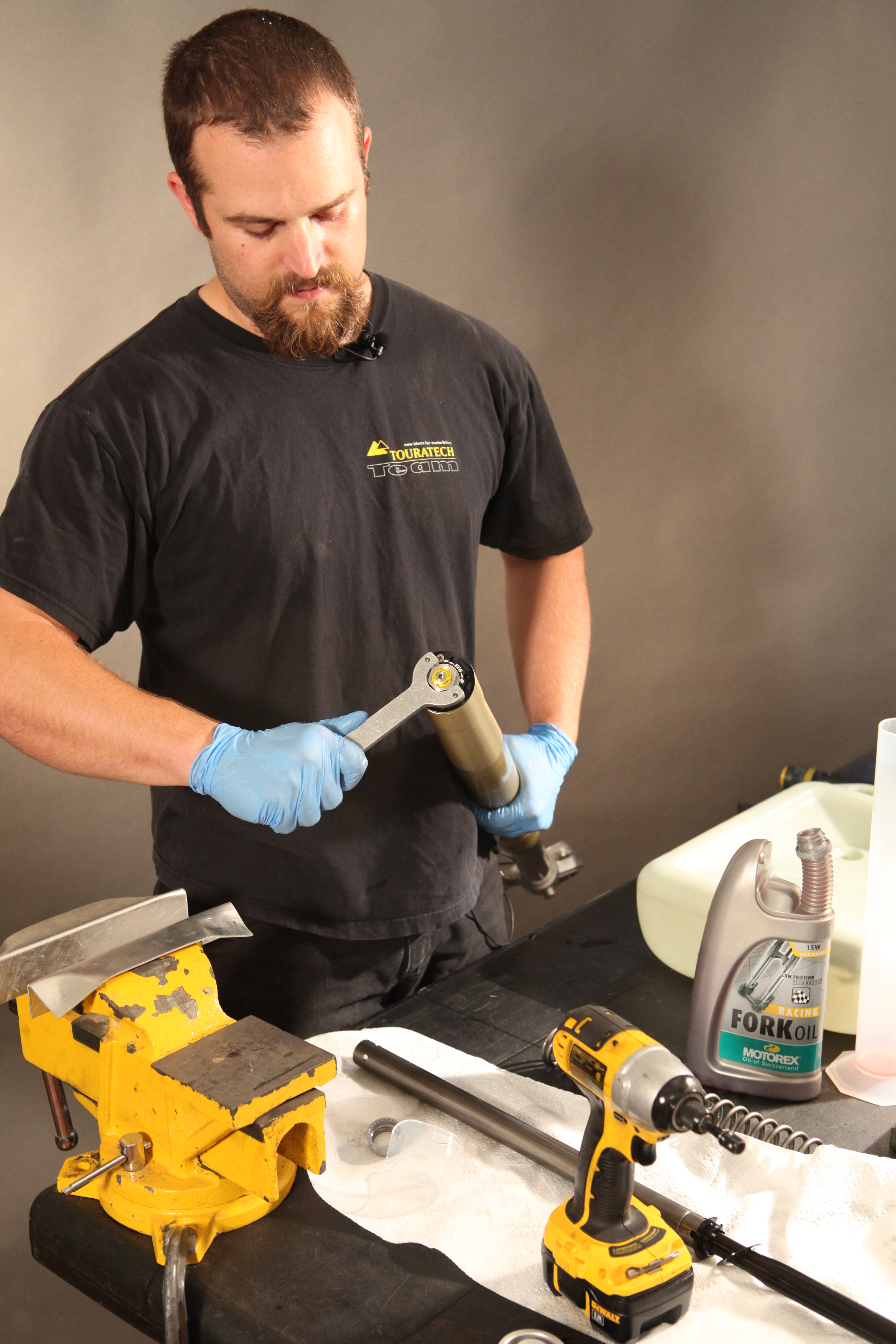 • ระบบปรับรองรับน้ำหนักบรรทุก (preload) สามารถปรับแต่งได้จากด้านบน ทั้งสองข้างซึ่งจะมีเครื่องมือไว้ขันปรับแต่งให้มาด้วย ซึ่งสามารถปรับแต่งอย่างละเอียด ให้เหมาะสม ได้ถึง 20 มิลลิเมตร ด้วยการหมุน 12 คลิก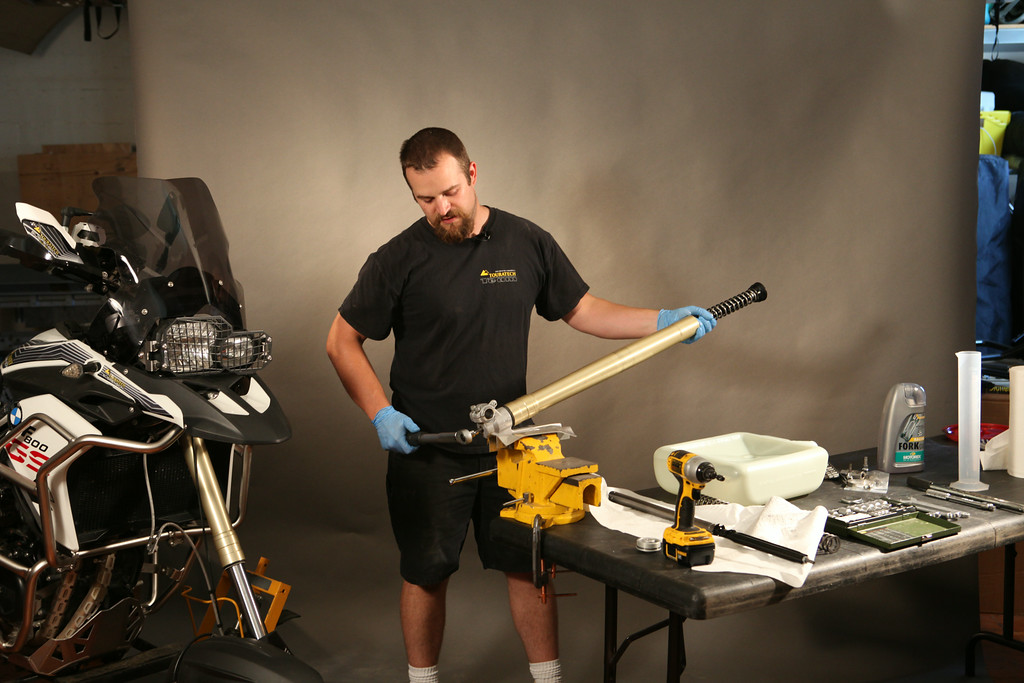 • แยกการปรับแต่งการคืนตัวของโช๊คอัพ (rebound) อยู่ด้านขวา ปรับได้ถึง 20 คลิก
• ปรับแต่งการดูดซับแรงกระแทกได้อย่างละเอียดแม่นยำ เพื่อรองรับน้ำหนักจำนวนมาก และ การกระแทกจากสภาพถนน ที่ย่ำแย่หรือเส้นทางออฟโรด และสัมภาระที่่บรรทุก

• แข็งแรง มั่นคง การดูดซับแรงกระแทก มีความเสถียรสูง ด้วยกระบอกสูบขนาดใหญ่ถึง 35 mm

• การออกแบบให้เป็นระบบปิด (Closed Cartridge) ดังกล่าว การดูดซับแรงกระแทกจะขึ้นอยู่กับน้ำมันเฉพาะที่อยู่ในระบบปิดเท่านั้น ส่วนน้ำมันที่อยู่ภายนอกระบบปิด จะทำหน้าที่เพียงหล่อลื่นชิ้นส่วน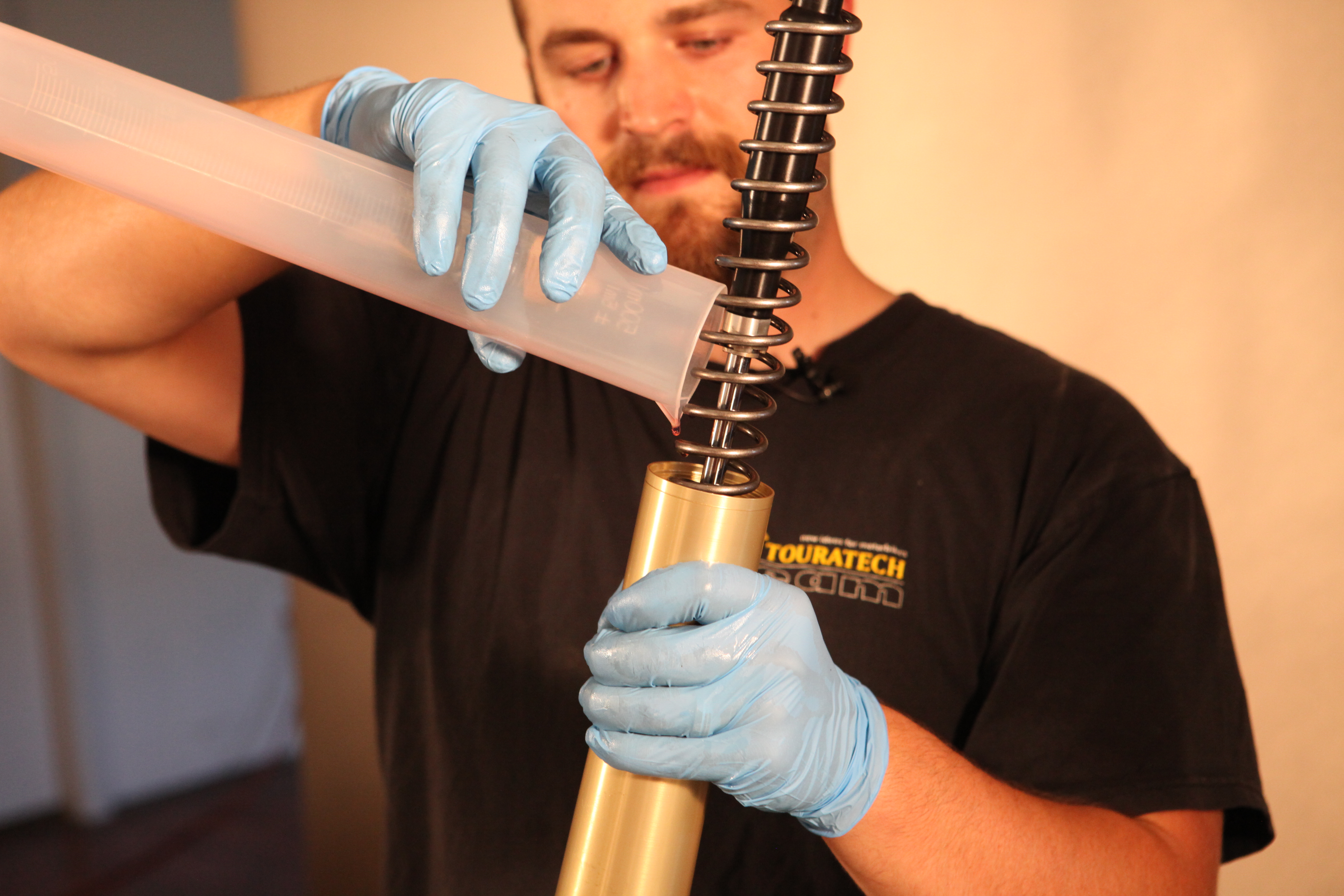 • น้ำมันในะบบปิดที่รองรับการดูดซับแรงกระแทก จะแยกอิสระจากแก๊สไนโตรเจน ที่ฐานด้านล่างของระบบ Cartridge

• การแยกอิสระดังกล่าว จะทำให้ระบบไม่ปะปน ซึ่งจะทำให้การดูดซับแรงกระแทกมีความเสถียรสูง และยังมีเพิ่มความทนทานอีกด้วย

• การแยกอิสระของน้ำมัน และ แก๊สไนโตรเจน ยังช่วยให้ไม่เกิดเป็นฟองหรือโฟม เมื่อใช้งาน ทั้งยังขจัดความไม่ราบลื่น StickSlip ของระบบ

• ส่งผลให้ความสามารถดูดซับแรงกระแทกเป็นไปต่อเนื่อง แม้จะอยู่ภายใต้การใช้งานถึงขีดสุด

• ไม่ทำให้รู้สึกกระด้าง และในระบบทั้งสองข้างจะมี "Hydraulic Endstop" เพื่อป้องกัน การยุบตัวจนสุดแกนโช็ค


การตั้งค่าจากโรงงานออกแบบเพื่อรองรับการใช้งานแบบท่องเที่ยวผจญภัยพร้อมสัมภาระเดินทาง

*หากมีความต้องการในการใช้งานที่แตกต่าง หรือเฉพาะทาง ก็สามารถเลือกสปริงเรท หรือ การปรับแต่งที่เหมาะสม เฉพาะตามความต้องการได้*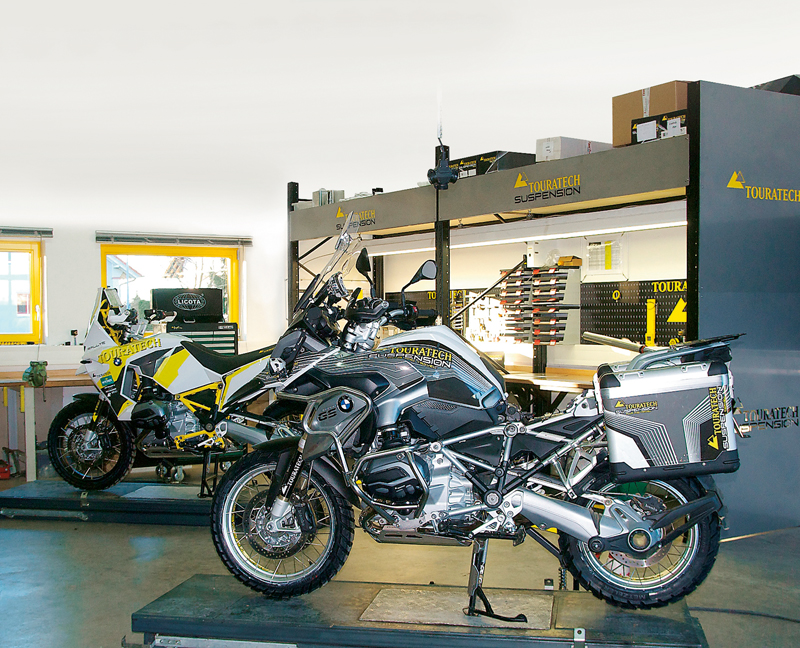 หากท่านมีข้อสงสัย หรือต้องการข้อมูลใดเพิ่มเติม เรามีความยินดีที่จะนำเสนอ กรุณาติดต่อได้ที่ Touratech-Thailand


ในชุดสปริงพร้อมแกนกระบอกโช็คอัพหน้า (Suspension Cartridge) ประกอบไปด้วย

• Closed Cartridge มาพร้อมชุดปรับการดูดซับแรงกระแทก 2 ชุด และ สปริงรองรับน้ำหนักบรรทุก 2 ชุด ประกอบด้วย :1 ชุด แบบ การปรับการคืนตัว และ 1 ชุด แบบปรับการหดตัว และ เครื่องมือเพื่อใช้ปรับ

• เครื่องมือ เพื่อใช้ปรับแต่ง
• ระบบ ได้รับการปรับแต่งพร้อมแล้วจากโรงงาน พร้อมเพื่อการติดตั้้ง และเพื่อเดินทาง
• น้ำมัน 1 ลิตร สำหรับใส่หล่อลื่นในกระบอก
• คู่มือการใช้งาน และ คำแนะนำ ในการติดตั้ง
• สติ๊กเกอร์ป้องกันรอย ที่กระบอกโช็ค 2 แผ่น


Touratech Suspension Cartridge Kit Extreme for BMW F800 GS Adventure from 2014 onwards
Putting it simply, the Touratech Suspension Cartridge Kit Extreme is a suspension strut for the fork and the absolute top end in terms of suspension technology. The Closed Cartridge is installed into the original fork. This way the fork bridge/handlebar mount, brakes and wheel control and handlebar geometry are retained in full. No additional modifications to the fork are required
This Closed Cartridge is been developed perfectly for touring and riding with frequent and strongly differing loads and riding conditions or extreme requirements.
Your benefits:
The Extreme setup compensates for any volume of luggage, from the rear bag to a loaded luggage system and/or a pillion rider. Spring preload, compression and rebound can be fully adjusted top-side. The damping oil is contained in a closed cartridge which allows precise dosing of the amount of oil. Thus the Closed Cartridge offers a significantly more refined and pleasant response behaviour of the fork. The finely adjusted damping allows effective and precise suspension settings to match your personal riding style at all times, for all road conditions and intended uses, regardless of motorways/fast roads, country roads, country lanes, offroad sections, long-distance travel with big luggage or a speedy, ambitious driving style. Should exceptionally tough road conditions act on the front wheel, the integrated "Hydraulic Endstop" prevents mechanical impacting of the fork.

You will experience a completely new ride with your motorbike.

Features of the Touratech Suspension Closed Cartridges:
- The Closed Cartridge is installed into the original fork. This way the fork bridge/handlebar mount,
brakes and wheel control and handlebar geometry are retained in full.
- No additional modifications to the fork are required
- A Closed Cartridge is an Extreme suspension strut in the fork.
- Fully adjustable top-side spring preloading (adjustment tool including with delivery) in both fork legs for optimal balance of the motorbike. 20mm via 12 clicks
- Separately adjustable rebound damping 20 clicks (1 fork leg)
- Compression damping 20 clicks (1 fork leg) for damping.
- For precise damping settings at high damping frequency and high load (poor roads, offroad with luggage).
- High damping stability and robustness through use of 35 mm piston.
- Closed design (Closed Cartridge), hence closed oil cartridge for damping
and the oil in the fork is for lubrication only.
- Damping oil (cartridge) and nitrogen, in a nitrogen accumulator at the base of the cartridge.
- Extremely refined response behaviour of the fork while providing high durability and stability at the same time.
- The separation of oil and nitrogen avoids foam formation and no stickslip in the fork.
- This means reproducible damping performance at all times, even under the most extreme conditions.
- Prevents the fork from going solid. Each cartridge is fitted with an "Hydraulic endstop" against against impacting.
The basic setup is adjusted for the demanding adventure rider with luggage.
Adaptation for exceptional requirements is possible. The suspension strut is then customised by us to your requirements using a spring with a suitable spring rate and other configurations.
If you have any further questions, we will be happy to advise you. Contact us.

Scope :
- 2x Closed Cartridge
with damper setting, (1x) rebound stage, (1x) compression stage.
with spring preloading via adjustment tool (2x)
- adjustment tool
- ready for installation and ready-to-ride, fitted with pre-mounted fork spring.
- 1 litre oil (for installation of fork)
- user manual and instructions for installation
- 2x Fork protection sticker.
___________________________________________________________________
Twisty country roads, rough asphalt, and washboard gravel; with the Touratech cartridge conversion S, the front end of your F800GS or GSA will feel more stable and planted in any condition, allowing you to spend your time thinking about the road ahead, not the road beneath you.
Not just a change in spring rate, or a simple re-valve, this cartridge conversion completely transforms the front-end of your F800GS with all new damping characteristics that can't be achieved with the stock F800 forks.
Gone are the days of non-adjustable stock front suspension. The Touratech kit is completely tunable with rebound, compression, and preload adjustments made from the top of the fork caps. No matter where your adventure takes you, you can be assured that our cartridge system is designed to go the distance and tackle any terrain you throw at it.
The Touratech Cartridge Conversion "S" is setup and valved for the mixed riding that most of us do, 1/2 street touring, 1/2 gravel and dirt roads. It is the perfect balance for an adventure touring bike. If your riding often takes you on fast, rough tracks, or perhaps you use your F800GS more as a dirt bike, consider selecting the Cartridge Conversion "X" which is valved more for extreme off-road use than adventure touring.
BMW F800GS Touratech Cartridge Conversion S Features:
•Easy Installation with simple "drop in" set-up. No irreversible machining or rework required. This kit includes everything you need to install the cartridge system in each fork leg. The cartridges come pre-sprung, filled with oil and charged with nitrogen. Simply install and ride.
•Closed Cartridge separates the air and the oil to prevent oil foaming. This direct damping technology ensures that your fork will have smooth and consistent performance even in punishing environments.
•Separation Bladder delivers lightning fast responsiveness due to minimal friction and eliminates foaming by pressurizing the oil.
•Adjustable compression damping allows absolute control of fork tuning to give you the precise handling characteristics you want in any conditions. With 20 clicks of adjustment you can control how fast the fork compresses. If it feels too firm, you can reduce the compression damping. If the bike is going through the travel too quickly, feels too soft, or is bottoming out, you can increase compression damping.
•Adjustable rebound damping allows you to fine-tune the ride characteristics to meet your preferences. With 20 clicks of adjustment you can control how fast the fork moves back out. If it feels bouncy you can increase compression damping. If the fork is progressively using up travel (packing) you can reduce rebound damping.
• Preload Adjustment is easily done by turning the durable steel nut on both legs to achieve proper ride height and use the suspension to its full potential.
• Easy Access with all adjustment screws located on top of the fork legs. Compression damping, rebound damping and preload can all be adjusted while sitting on the bike. This makes it easy to adjust the suspension and have it perform just the way you want it.
•Hydraulic Bottoming Prevention – Like a pillow to prevent the fork from bottoming out suddenly, the hydraulic end stop offers secondary compression damping to smooth out the ride.
•High-strength 35mm aluminum cartridge body is lightweight and maximizes heat dissipation to ensure consistent damping.
•Large volume cartridge holds more oil resulting in cooler operating temperatures, consistent damping and longer life.
•Chrome-plated steel piston rod prevents wear and offers maximum strength and durability resulting in smooth action.
•Includes custom spring selected for your weight and riding style.
•Damping set up for fully-loaded F800GS or GSA right out-of-the-box.
Why is a closed cartridge system better?
1.) Damping oil is separated from the nitrogen which prevents foaming. This results in unmatched consistency in damping. An open system loses damping the harder it is ridden as oils gets mixed with gas.
2.) Closed systems allow the selection of different oil specifications for damping versus lubrication. Heavier oil is better for lubricating, while a lighter weight oil is better for damping. A closed system allows the engineers to select the best oil for each job which dramatically improves performance. Open systems have to make a big compromise with oil selection because they must choose an oil type that is resistant to foaming, can provide lubrication and also work for damping. The result is an oil specification that is not the best for any single job.
3.) A closed cartridge is a self contained "drop-in" solution that offers unmatched performance. It's like a Touratech Extreme Shock for your forks.
Fits BMW F800GS and Adventure, All Years