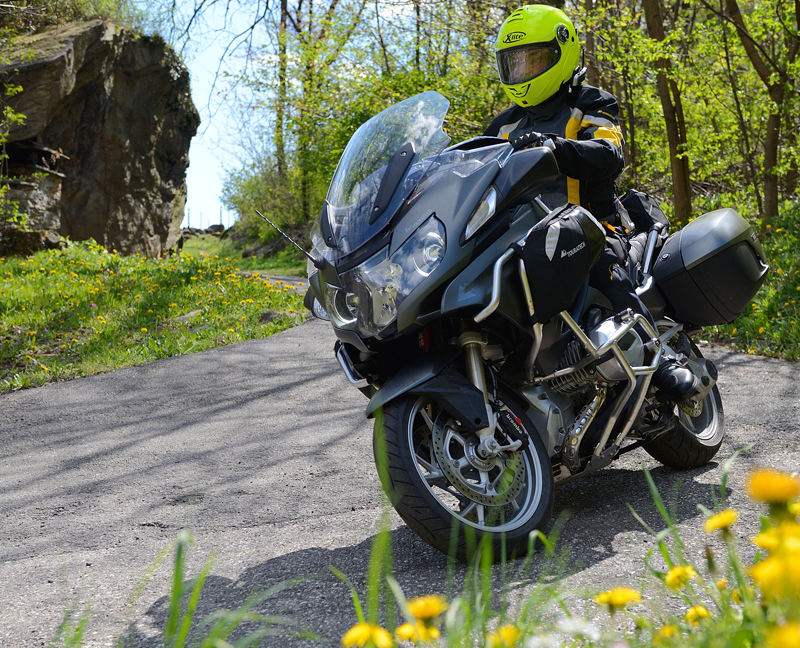 This is the one that offers maximum benefit for minimum expense!
If you're looking for a high-quality, sturdy and rugged pillion bag that takes up the least amount of space, doesn't get in the rider's way, is easy to mount and also offers some nice, practical features, then this is the right one for you.
You can be sure that we haven't cut any corners on our "Ambato Pure" pillion bag: Despite its flatter design, this bag still offers an impressive amount of space. It's made of Cordura fabric, so it can take on the toughest demands and most extreme conditions, and its superb workmanship is legendary.
An outstanding value for the money that's very hard to resist!

● Insert panels made from strong waterproof tarpaulin
● The material that we use is not plain nylon – it is certified Cordura fabric, made in Germany, as also used for protective motorcycle clothing and expedition equipment
● Sturdy body and top made from high-quality, water-resistant and abrasion-resistant 1100 dtex Cordura
● Waterproof coating on inside of fabric
● Fluorocarbon impregnation and Teflon coating by DuPont using nanotechnology for protection against moisture, dirt, oil and fading
● Washable and easy to clean
● The fabric used has been tested for harmful substances and certified in accordance with OEKO-TEX Standard 100
● Reflective 3M Scotchlite panels for maximum visibility
● Made for extreme loads and built to last
● Perfect fit
● Securely attached but can be quickly taken off the bike
● Simply zips onto attachment kit with two sturdy, large-tooth, dirt-resistant zips
● Velcro strip in the middle of the base plate holds the bag securely
● Low-weight bag with high carrying capacity and large usable volume
● Reflective quick-release elastic straps for quickly stowing gloves or a rain jacket
● Waterproof inner bags available separately
● Optional rain cover available
● Carry straps for use as a shoulder bag or rucksack are available separately
● Large main compartment without extra subdivisions provides maximum space for individual loading
● Flat, narrow shape allows great freedom of movement for active off-road use
● Appealing, exclusive blend of materials with a refreshing design
● All luggage systems are carefully hand-crafted in Germany
● Soft, slip-resistant base plate ensures secure positioning and prevents paint damage
● To ensure volume measurements are fair and accurate, they are taken in use with the bag fitted to the bike – they are not the result of estimates or rough calculations as is often the case.

What's included:

Please note: Use paint protection film if necessary!

Size: (L x W x H) approx. 33 x 30 x 15 cm
Volume: approx. 14 litres
Colour: black


---

Low Profile Passenger Seat Bag, BMW R1200RT, 2014-on
If you like the idea of a passenger seat bag, but want something lower profile that you can swing your leg over, this piece of luggage is for you. Whether you're planning a trans-continental trip, or a weekend ride, a soft passenger seat bag is a great luggage option for your R1200RT water cooled. Unlike a tail-bag, the passenger seat bag mounts closer to the rider, keeping the weight more centered on the motorcycle. Packed with great features, and built from the best materials available, Touratech touring passenger seat bags are made to go the distance.
High quality Cordura material – Our touring seat bags are made only out of the highest quality materials. Unlike the other manufacturers who use standard Nylon material, Touratech uses premium Cordura. The certified Cordura fabric, made in Germany, is the same material used in high-end riding suits and is tough and highly abrasion resistant. The Cordura is also treated with a special Teflon coating to protect against dust, moisture, and fading.
External storage options – The reflective bungee net is perfect for stashing your gloves during fuel stops or border crossings.
Secure Mounting System - Our passenger seat bag doesn't attach to the bike via straps like other manufacturer's bags. The Touratech seat bag has a specific mounting system that wraps around the passenger seat, and holds the bag in place with two quick zippers.
Rigid sides hold their shape - Even when the bag is empty, the plastic reinforcmenet built into the inside of the bag keep the sides supported.
Bright reflective panels –Integrated reflective panels sewn into both sides of the bag keep you visible day and night.
Even off the bike, this touring bag is very useful as a hand bag with its convenient carry handle.
Capacity: 14 liters
Dimensions (approx.): 13 x 11.8 x 6 inches
Mounts to passenger seat
Color: Black w/ reflective details
Made out of Teflon-coated Cordura
Fits BMW R1200RT water cooled models, 2014 and newer
Made in Germany by KAHEDO