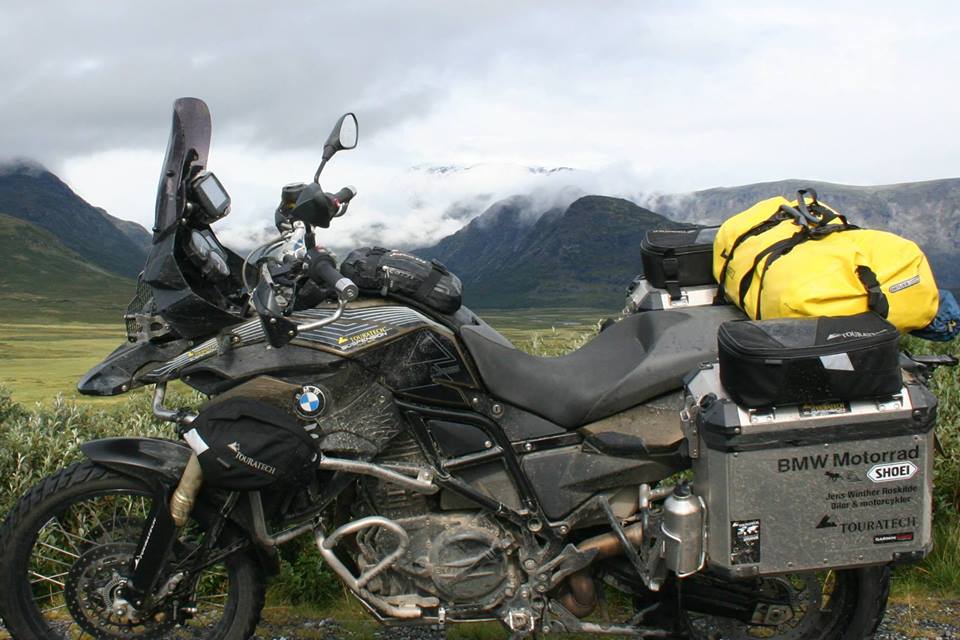 กระเป๋าติดฝากล่องAmbatoสำหรับติดตั้งกับกล่องสัมภาระ Touratech และกล่องอะลูมิเนียม BMW


กระเป๋าติดฝากล่องใบนี้จะช่วยเพิ่มพื้นที่เก็บของให้มากยิ่งขึ้น และในหลายๆ ครั้ง นั่นคือสิ่งที่จะเพิ่มความสบายให้กับการเดินทางของคุณจากหน้ามือเป็นหลังมือ การติดตั้งก็สามารถทำได้ง่าย เพียงแค่ร้อยสายรัดเข้ากับหูคล้องสายที่ฝากล่องสัมภาระของ Touratech และกล่องอะลูมิเนียมของ BMW ทุกรุ่น คุณสามารถเลือกติดตั้งกระเป๋าเข้ากับกล่องสัมภาระข้างเดียวหรือทั้งสองข้างก็ได้ ขึ้นอยู่กับความต้องการของคุณ
สีดำคลาสสิกแมทช์กับกระเป๋าใบอื่นๆ ในซีรี่ส์ Ambato ของเรา กระเป๋าใบนี้ผลิตจากผ้า Cordura และผ้าใบกันน้ำคุณภาพสูง พร้อมฝากระเป๋าขนาดใหญ่และซิปที่เปิดหยิบของได้ง่ายๆ จากด้านบน
● ชั้นบุด้านในทำจากผ้าใบกันน้ำที่แข็งแรง
● เราไม่ใช้ผ้าไนลอนทั่วไปมาทำเป็นกระเป๋าใบนี้ แต่เราเลือกใช้ผ้า Cordura ผลิตในเยอรมนีที่ผ่านการรับรองมาตรฐานแล้ว แบบเดียวกับที่ใช้ทำเป็นชุดขี่มอเตอร์ไซค์และอุปกรณ์สำหรับการผจญภัยอื่นๆ
● ตัวกระเป๋าและฝากระเป๋าแข็งแรง ผลิตจากผ้า Cordura 1100 Dtex คุณภาพสูงที่มีคุณสมบัติทั้งกันน้ำและทนทานต่อการเสียดสี
● ผ้าด้านในผ่านการเคลือบผิวกันน้ำ
● เนื้อผ้าผ่านการชุบด้วยฟลูโอโรคาร์บอนและเคลือบด้วย Teflon จาก DuPont โดยใช้นาโนเทคโนโลยี ทำให้สามารถป้องกันความชื้น ฝุ่น น้ำมัน และการซีดจางของสี
● ซักและทำความสะอาดได้ง่าย
● ผ้าผ่านการทดสอบแล้วว่าปราศจากสารที่เป็นอันตราย รวมทั้งผ่านการรับรองมาตรฐาน OEKO-TEX Standard 100
● แถบสะท้อนแสง 3M Scotchlite ช่วยเพิ่มความสามารถในการมองเห็นได้สูงสุด
● ออกแบบมาโดยเฉพาะเพื่อความทนทานสำหรับการใส่ของจำนวนมาก
● ติดตั้งได้อย่างพอดี
● กระเป๋ามีการยึดเข้ากับมอเตอร์ไซค์อย่างแน่นหนา แต่ยังคงสามารถถอดออกได้อย่างรวดเร็ว
● น้ำหนักเบาแต่ใส่ของได้เยอะด้วยพื้นที่ใส่ของมากเป็นพิเศษ
● สามารถสั่งซื้อกระเป๋ากันน้ำชั้นในแยกต่างหากได้
● ช่องเก็บของหลักขนาดใหญ่ไม่มีการแบ่งช่องย่อย ช่วยให้สามารถใช้พื้นที่เก็บของได้อย่างเต็มที่
● สวยงามด้วยวัสดุประเภทต่างๆ ที่นำมาใช้ผลิต พร้อมด้วยดีไซน์ที่ดูทันสมัย
● ชุดกระเป๋าทั้งหมดผ่านการตัดเย็บอย่างละเอียดด้วยมือในเยอรมนี
● พื้นกระเป๋าแบบนุ่มป้องกันการลื่นช่วยให้กระเป๋าอยู่ในตำแหน่งอย่างแน่นหนาและป้องกันสีรถเสียหาย
● การวัดข้อมูลขนาดความจุทำโดยใช้วิธีการที่แม่นยำหลังจากที่ติดตั้งกระเป๋าเข้ากับมอเตอร์ไซค์แล้ว และไม่ใช่ค่าที่ได้จากการประมาณหรือการคำนวณแบบหยาบๆ เหมือนกับกระเป๋ายี่ห้ออื่นๆ ส่วนใหญ่
สินค้าในชุด:
หมายเหตุ: ควรติดฟิล์มกันรอยถ้าจำเป็น!
ขนาด: (ยาว x กว้าง x สูง) ประมาณ 34 x 20 x 12 ซม.
ความจุ: ประมาณ 8 ลิตร
สี: ดำ
Size: (L x W x H) approx. 34 x 20 x 12 cm
Volume: approx. 8 litres
Colour: black
---
This pannier lid bag provides extra storage space that can often make a big difference. It is extremely easy to attach via the strap slots on the pannier lids of all Touratech panniers and BMW aluminium panniers. Depending on personal space requirements, bags can either be fitted to both or just to one pannier.

HIGH-VIS - When mounted on the pannier lid, the neon yellow Cordura bag can be seen from all sides and thus offers additional safety, even when turning. It is never obscured by the rider or passenger and reflecting threads woven into the material prominently reflect in dark conditions.
BLACK - Perfectly matching our Ambato luggage series, the neutral black bag is made from a quality Cordura blend and its large lid has a zipper to provide easy access from the top
Size: (L x W x H) approx. 13.25 x 8 x 4.75 in
Volume: approx. 8 litres
Reflective 3M Scotchlite panels for maximum visibility
Made for extreme loads and built to last
Securely attached but can be quickly taken off the bike
Low-weight bag with high carrying capacity and large usable volume
Large main compartment without extra subdivisions provides maximum space for individual loading
Soft, slip-resistant base plate ensures secure positioning and prevents paint damage