The Touratech crash bar extension protects the delicate radiator, the fairing and even the tank of the new water boxer!
Even though BMW has fitted the radiator as closely as possible to the R1200GS , its bottom corners still protrude quite a lot. A bad drop can be all it takes to put paid to a trip - and you can expect a large bill for repairs.
The Touratech crash bar extension will put an end to annoying scratches on the fairing!
Made exclusively of strong, electropolished stainless steel, the extension will not rust. Even deep scratches are less frightening, and can simply be ground off.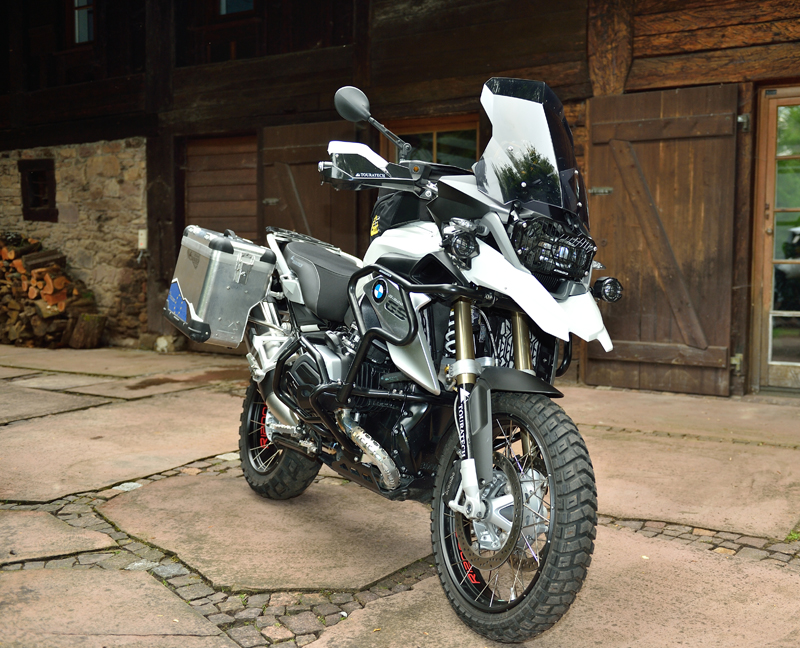 We have taken up the sporty lines of the R1200GS and positioned the bars as closely as possible to the vehicle. The crash bar extension looks as if it were a part of the motorbike.
● forces triggered by a crash or the motorbike falling over are absorbed and diverted to the specially intended points without causing any major damage
● the generously dimensioned cross-sections protect the rider and motorbike
even in a head-on collision
● stable, multi-position attachment with high-tensile clamping to the engine crash bar and bolting at the front
● lends the R1200GS an aura of ADVENTURE
● can only be fitted in conjunction with our crash bar (01-045-5162-0) and the original BMW crash bars
● for all BMW R1200GS models from 2013
The crash bar not only enhances the appearance of your R1200GS, but is also a sensible investment to protect it against expensive damage. Perfectly complements the Touratech engine crash bar (01-045-5162-0)!
This Touratech adapter kit (01-045-5200-0) lets you mount the original BMW LED auxiliary headlights directly on the Touratech crash bar extension (01-045-5161-0 and 01-045-5163-0) for the R 1200 GS, 2013 onwards.
---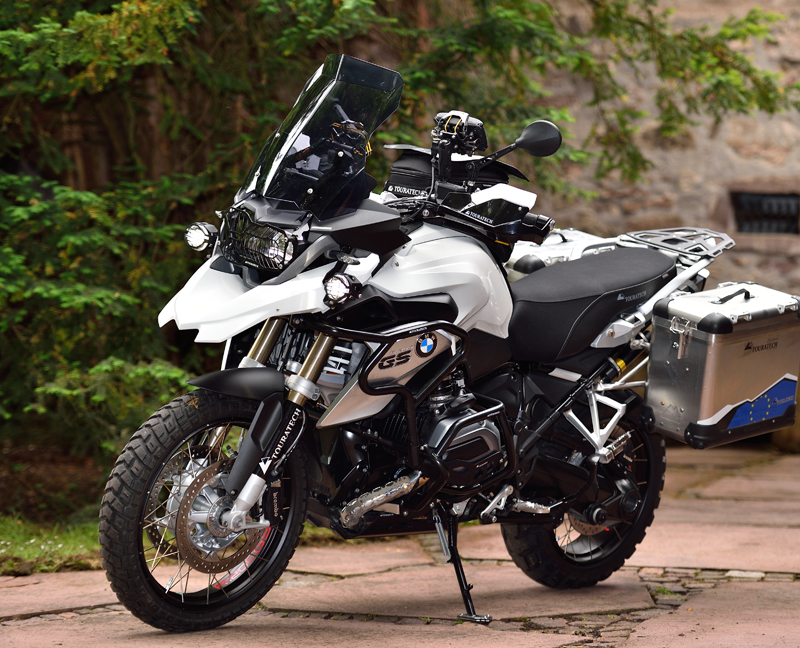 Upper Crash Bars - BMW R1200GS Water Cooled
A cracked plastic fairing or leaking radiator, after a simple tip-over, can put a dent in your pride and your wallet. Protect your BMW R1200GS Water Boxer by adding Touratech Upper Crash Bars to your OEM BMW or Touratech engine crash bars.
A vital component of the liquid-cooled boxer engine is its radiator, and while BMW did a good job of keeping it tucked-in and out of the way, the bottom corners are still vulnerable and can become a liability on a long adventure. Touratech Upper Crash Bars keep your radiator protected during a tip-over and also prevent damage to expensive body and fairing pieces on your water-cooled BMW R1200GS.
Made of strong 1-inch diameter stainless steel tubing, these bars are tough and also contribute the adventure aesthetic of this capable machine. Unlike other designs, Touratech crash bars compliment the overall look of the by following the lines of the stylish R1200GS.
The Touratech Upper Crash Bar System is quick and easy to install, and also provides a solid location for mounting lights. They are fully compatible with BMW OEM crash bars, Touratech engine crash bars, and Touratech LED auxiliary lights. If you have BMW OEM LED lights installed, you will need to purchase our adapters (01-045-5200-0) to mount the lights to the upper crash bars.
If you'd like to order a complete package of upper and lower crash bars together, click HERE.
Made of 25mm diameter, 2mm wall thickness stainless steel tubing
Protects the expensive upper fairing and vulnerable radiator
Fits with either BMW OEM or Touratech crash bars
Stainless steel bars will not rust
Available in electo-polished stainless steel (silver) or epoxy-coated (black) finishes
All hardware included for easy installation
Accents the styling lines of the R1200GS
Fits BMW R1200GS Water Cooled models, 2013-on
NOT compatible with BMW OEM auxiliary lights.
Made in Germany by Touratech