การ์ดเครื่องยนต์เสริม EXPEDITION


การ์ดเสริมของเราได้รับการออกแบบสำหรับใช้ร่วมกับการ์ดเครื่องยนต์ EXPEDITION โดยมีการออกแบบเหมือนกันทั้งในด้านเทคนิคและรูปลักษณ์ การ์ดเสริม EXPEDITION ทำหน้าที่ปิดช่องระหว่างการ์ดเครื่องยนต์กับล้อหลัง ซึ่งสิ่งที่คุณจะได้ก็คือการปกป้องที่ดีขึ้นไปอีกขั้น โดยเฉพาะสำหรับการขี่ออฟโรด! เพราะไม่มีอะไรที่จะเข้าไปติดคารอบๆ ขาตั้งกลางได้ ทำให้การ "ไถล" ข้ามโขดหิน ก้อนหิน และตอไม้ง่ายขึ้น การ์ดเครื่องยนต์เสริมยังช่วยปกป้องท่อไอเสียบางส่วนจากหินและเศษต่างๆ ที่กระเด็นขึ้นมา แต่นอกจากจะเหมาะสำหรับออฟโรดแล้ว ก็ยังเหมาะกับการขี่บนถนนทั่วไปด้วยเช่นกัน! เหลี่ยมมุมต่างๆ ของแผ่นอะลูมิเนียมหนา 4 มม. ช่วยเพิ่มเสถียรภาพให้กับตัวรถ รวมทั้งยังไม่ทำให้ระยะใต้ท้องรถเตี้ยลง การติดตั้งการ์ดเครื่องยนต์เสริม
EXPEDITION
ก็ยังสามารถทำได้ง่ายและรวดเร็ว เพียงแค่ติดตั้งเข้ากับขาตั้งกลาง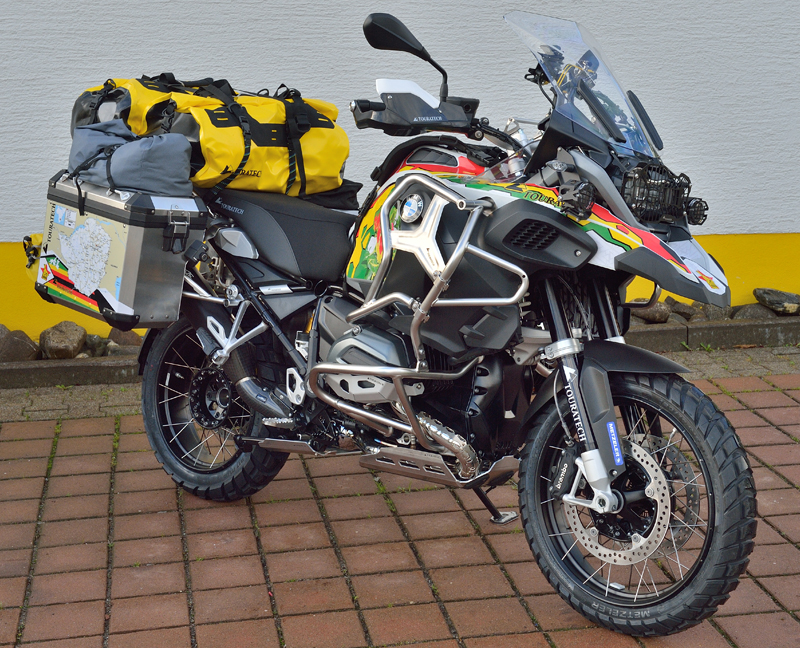 We have developed an engine guard extension to go with our *Expedition* engine guard. The design is the same, technically and optically. The *Expedition* extension closes the gap between the engine guard and the rear wheel. An unbeatable advantage, especially off-road! Nothing can get stuck or caught around the main stand. This makes it much easier to "slide" over stones, rocks or tree stumps.
The engine guard extension also protects parts of the exhaust from stones and other kinds of dirt that get thrown up. Also really useful in road use! The many angles of the 4-mm thick aluminium sheet provide maximum stability. There is no restriction of ground clearance. The *Expedition* engine guard extension attaches to the main stand in moments.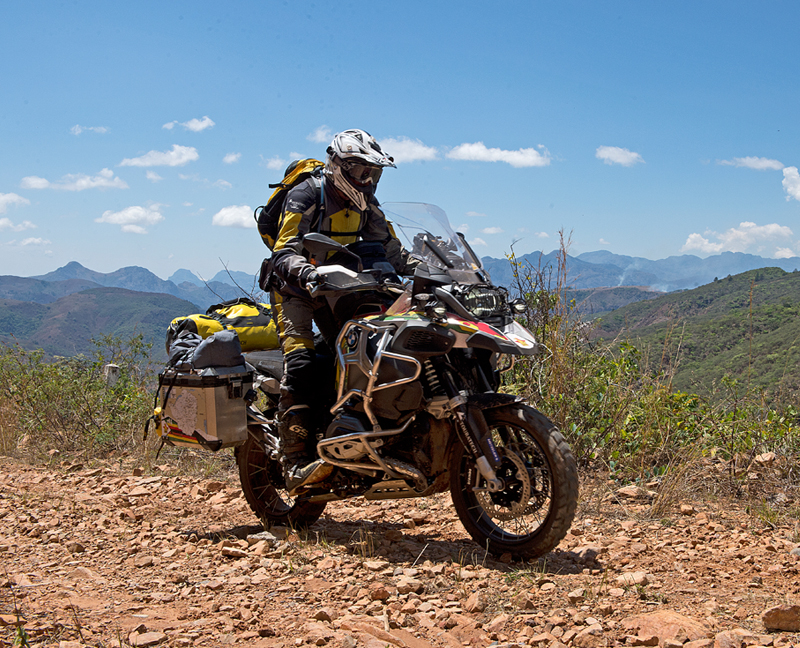 ---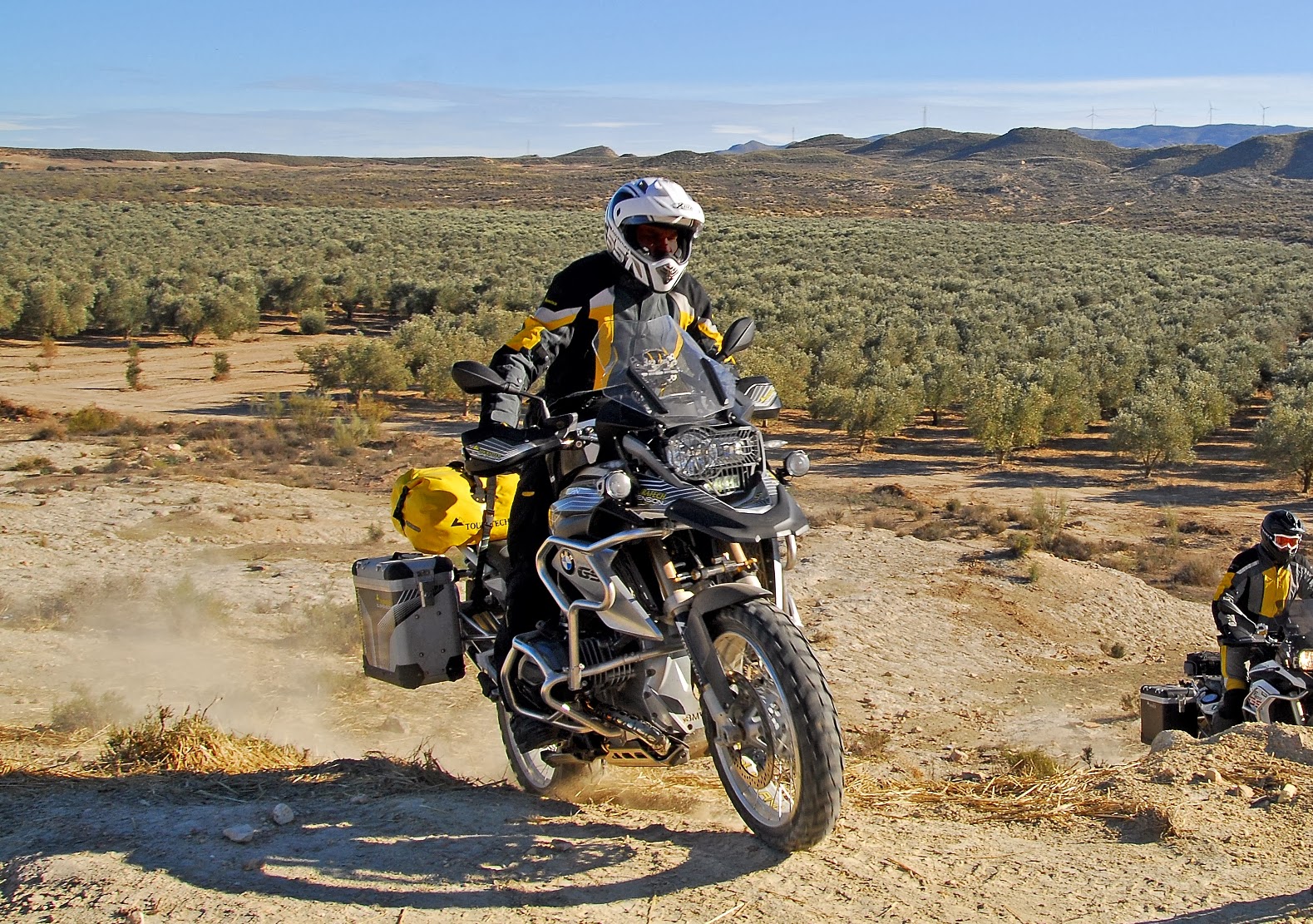 Don't give rocks or branches a place to snag the underside of your GS. Close the gap between the Expedition skid plate and the rear wheel, and give a smooth sliding surface for the entire underside of your R1200GS with this skidplate extension from Touratech. Whether you're gliding your big GS over logs and rocks, or just want to keep the dirt and grime buildup off your exhaust system and centerstand, this extension is a great addition to your Expedition skid plate.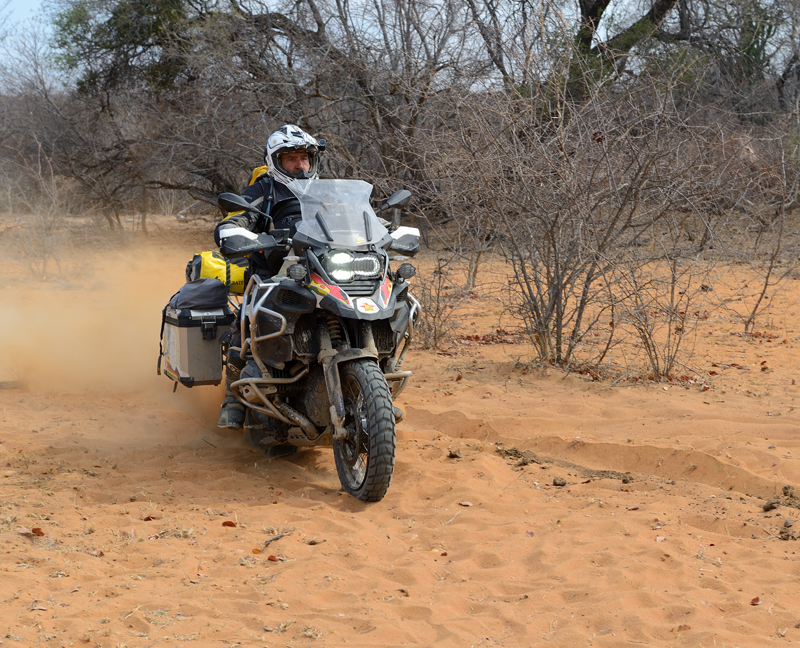 Made of 4mm thick aluminum, this skid plate is designed to complement the protection and looks of the Touratech Expedition skid plate. It simply attaches to the R1200GS Water Cooled boxer's centerstand and when folded up, creates a continuous aluminum skid plate from the front wheel to the rear.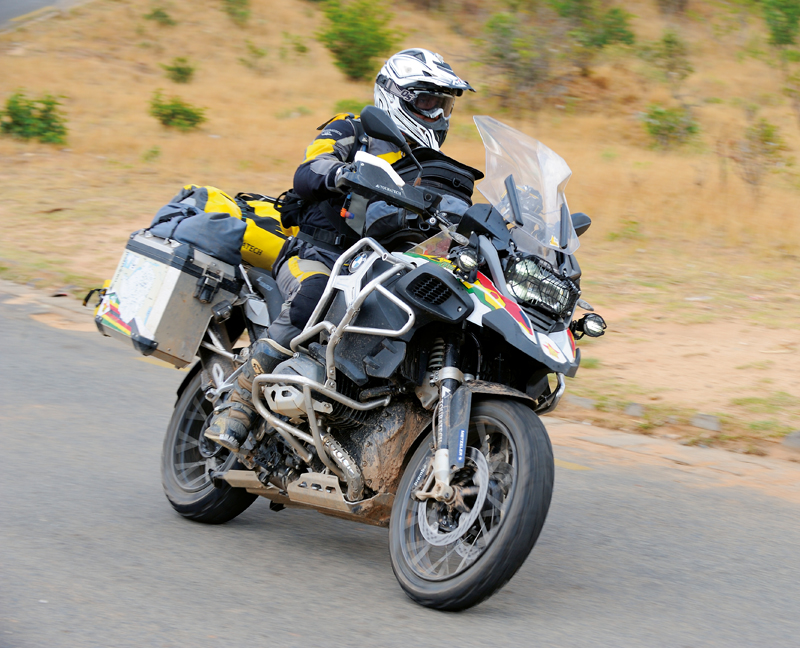 The extension installs in minutes with 4 sturdy rubberized clamps and 1 large aluminum tab to hold it securely to the centerstand without rattling.
Made of 4mm thick laser-cut aluminum
Compliments Expedition skid plate 045-5135 perfectly
Extends protection past exhaust to rear tire
Gives smooth sliding surface for full length of motorcycle underside
Attaches to stock centerstand with 4 rubberized clamps
Fits BMW R1200GS Water Cooled models 2013-on
Not compatible with Expedition Long skid plate # 01-045-5140